Brilliant custom graphics draw all eyes to your promotional message.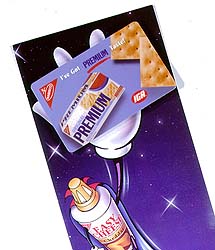 The standard PhoneCard™ Express package consists of a PhoneCard attached to a 4" x 9" gift card that tells any story you like -- doubling the impact of your promotion. Use the gift card as a targeted advertisement, product brochure, tear-off response card, coupon or schedule of events. Remember ... everything is completely customized! KeyChain version available at same pricing.
                        1000      2500      5000      10000     25000     
5 minute (2 Color)      2.55      1.95      1.85      1.49      1.43      
10 minute (2 Color)     4.15      3.55      3.41      2.45      2.29      
5 minute (4 Color)      3.31      2.91      2.45      1.65      1.53      
10 minute (4 Color)     4.55      4.15      3.75      2.69      2.55      
Long-distance taxes: Included in pricing.
Additional minutes and denominations: Available; quoted on request.
F.O.B. point: FL.
Production time: Approximately 3 weeks.
All prices include PhoneCard attached to a 4" x 9" Gift Card or PhoneCard Keychain.
PhoneCard KeyChains are perfect for auto-related promotions, to encourage responsible drinking or to hold an "emergency quarter." PhoneCard BookMarks are a great medium for book reviews, travel groups and educational campaigns. Our unique shapes and sizes include bottles and cans, food products and sports equipment. Challenge us to meet the demands of your next project!
Imagine the possibilities! PhoneCards can be completely customized and die-cut to all shapes, sizes and functions.