Dri-Wash 'N Guard Home Page
Dri-Wash 'N Guard is truly the best car product on the market today! Its formula brings out a mirror finish while it protects your cars paint better than any other wax. It is also safe for the environment in that it does not have harmful CFC's and there is no need to pre-wash your car with water.
"Ease of Use": You just spray it on the car and wipe the dirt of with one 100% cotton cloth and then buff it out with another 100% cotton cloth. It works on all parts of your car: paint, rims, chrome, mirrors & glass (acts like Rain-X in that the water will just bead up and run right off).


The reasons most people get interested in Dri-Wash 'N Guard is for its unique abilities in the following areas:


To get rid of acidic (sprinkler water ) water marks in both the car's paint and chrome without removing any of your car's paint. One would normally choose a rubbing compound to accomplish this task yet it is not always necessary to take layers of paint off your car (it is also very time consuming).


It works extremely well on oxidized paint jobs to restore a new mirror finish to your car's paint job. These two reasons alone make it an invaluable product.


The best part is that it only takes you about 20 minutes to do your whole car! The protection lasts 90 days and can be reactivated with a damp cloth (within the 90 days).
---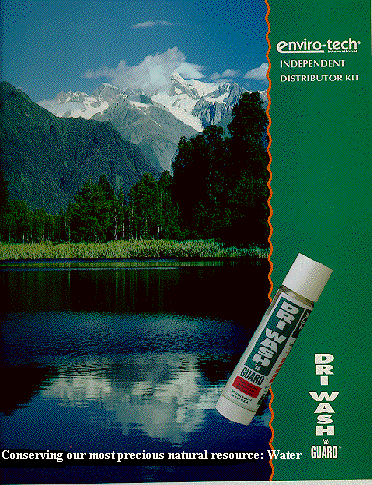 ---
There are currently 4 total web pages for Dri-Wash 'N Guard. You may click on one of the following 4 pages right from here:

Dri-Wash 'n Guard Products

The Dri-Wash 'N Guard Story (technical info)

Dri-Wash 'N Guard Distributor information & Retail information


For additional info which is not on this web site: email: cgu@laker.net



Ps. The rest of the pages at this site do not have gifs as large as this one (quicker access) so don't turn off your "auto load immages" feature for the pictures help represent the products.
---
(page 1)